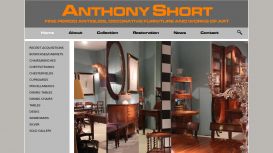 At Anthony Short Antiques we first opened an antiques gallery 16 years ago in Antwerp. Following my father's footsteps, who has been in the antiques trade for more than 40 years in Knokke-Zoute, Belgium It was time to start a new challenge so in 2008 I decided to move to Petworth in the UK and left my successful shop in Antwerp to start up a whole new adventure in Petworth "voted best antiques town in UK".
In June 2008 I started dealing in antiques from our small premises in East Street, Petworth. Having looked for some time I found a large showroom nearby the market square in Petworth, ideally suited to display my large stock of antique furniture, silver and works of art. The new shop has its own private parking which makes it handy for visitors and loading.
I will continue to attend my usual antique fairs as The Winter Olympia Fine Art Fair, The decorative Antiques Fair at Battersea, the Goodwood House Antiques Fair and on the continent the Art Nocturne Knocke Fair, Eurantica in Brussels and Antica in Namur to keep in contact with my loyal clientele. "It is thanks to them that I am where I am today!".
I hold a large and varied collection of 18th and 19th century quality antique furniture, featuring fine antique mahogany furniture of the Georgian, Regency and Victorian periods embracing designs by Chippendale, Sheraton and Hepplewhite, featuring fine walnut furniture of the Queen Anne period, English and Continental Oak and Country furniture, decorative antique objects, antique prints and antique silver.
Buy with confidence. Over two generations in the antiques trade we have built a reputation for dealing in quality antiques. With every purchase we provide a certificate with description to ensure our customers are satisfied with a genuine purchase.
All our items are genuine antiques which we buy specifically with a keen eye on contemporary trends to complement modern living and interior design. We hold a much larger stock than is shown on this web site so please contact us if you are looking for anything in particular.
---
Reviews and Ratings
We do not have any reviews about Anthony Short Antiques available right now.