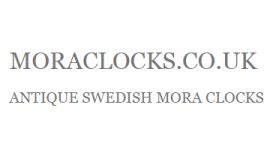 We are passionate about our Swedish Mora Clocks and we have sourced an unrivalled selection of original 1800s masterpieces for you to choose from. They are very rare now and we search high and low across Sweden to find you the best examples available of this ancient craft. Just pick up the phone now and have a chat about these wonderful pieces with no obligation.
To help you decide which is the right Mora Clock for you, heres a short checklist of things for you to think about.
Do remember though, that your Mora Clock will be your friend for life: at the end of the day, it's an emotional choice. One Mora Clock will just feel right to you regardless of all logical considerations - there will be one clock that just calls to you and thats the one to buy. We have 5 clocks at home and we talk to them all the time - they are like people with distinct personalities. So you never get lonely! They watch over you at night like guardian angels!
---
Reviews and Ratings
We do not have any reviews about Moraclocks.co.uk available right now.