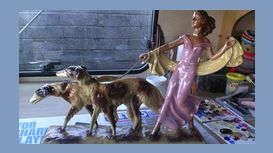 Marble clock bodys, Spelter figures etc, I have even repaired Bronze figures, so don't throw it in the bin. During the victorian period there was a tendency to over paint spelter and bronz pieces to make them more somber.
Most were gold colour ( Ormolu colour ) to start with and can be taken back to near original look.
Contact Details
Antiques Ceramics Repairs
34 Loganlea Crescent, Addiewell
West Calder, West Lothian
EH55 8HP
Get Directions
Show map
---
Services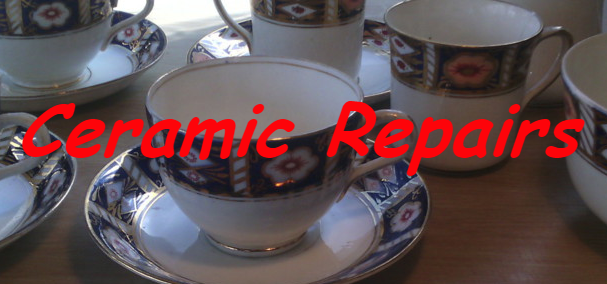 There are 5 types of repair i can do, it depends on what you want.
Type 1, The museum style:
This is a repair that fixes the pices in place and makes the thing whole and strong.
This repair is for objects that canot be painted for some reason.
Type 2, KINTSUGI, Rather than disguising the breakage:
Most people would like damages to their broken items to be concealed and hidden by repair making the object look like new. But the Japanese art of Kintsugi follows a different philosophy. Rather than disguising the breakage, kintsugi restores the broken item incorporating the damage into the aesthetic of the restored item, making it part of the object's history. Kintsugi uses lacquer resin mixed with powdered gold, silver, platinum, copper or bronze, resulting into something more beautiful than the original.
Type 3, Glue and tidy:
This repair glues and fixes the pieces and then the filler is coloured to disguise but not necessarly hide the repir.
Type 4, Nearly unspottable:
This is the most common repair i do as most people just want their object to look good again.
Type 5, Unspottable:
This type of repair is mostly on pieces for dealers in ceramics.
Its very hard to get right and cost more money to do.
I don't do chineese porcelain in this repair as the finish is so fiddly to get just right.
Reviews and Ratings
Kev repaired the broken base of a spelter vase for me. A totally invisible repair was made restoring a useless piece back to its former glory. Faultless work and service and a very fair price. Yet again I'm more than 100% satisfied. Thank you Kev and Alfie.
I have just collected a china sugar bowl top from Kevin. The top handle was missing - I thought it was totally beyond repair - how wrong I was! Fantastic job - even has the matching gold markings - has been totally re made by copying the teapot lid. A very satisfied customer. Would reccomend Kevin to anyone.