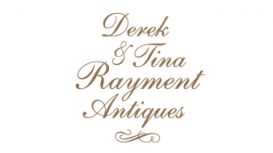 50 years ago I decided to hang-up my professional cricket bat. To be honest I wasn't good enough, and after a brief dalliance with ballroom dancing (my elder brother ran a dancing school with his wife) I decided to redirect my energy into what became a life-long passion for restoring and repairing antique barometers and other such instruments.
I began learning my trade when I joined a small family business in Clerkenwell, London – which manufactured new instruments. However I immediately was drawn into the world of antiquity when old broken barometers were brought in for restoration and after a short while, in 1972, I decided to start my own concern.
Now after many years together with my lovely wife Tina, we've had over 15,000 items pass through our workshops which we have either restored, repaired or sold.
We've had the enormous privilege of being entrusted with the most valuable and rare barometers, some as early as the 17th century, to restore for future generations. We are the leading antique barometer specialists in the UK, with over 50 years of experience and expertise in the business.
We have a wonderfully diverse range of unique barometers for sale, provide a first-class repair service and can restore any barometer to its former glory using the same hand-crafted traditional techniques that they were originally made by.
Our clients are based all over the world, so we can organise collection and re-delivery with the utmost care and attention to detail. So if you are looking for a beautifully timeless gift for a loved one, would like us to source something specific or have a barometer that is in need of a little care and attention – please get in touch.
---
Services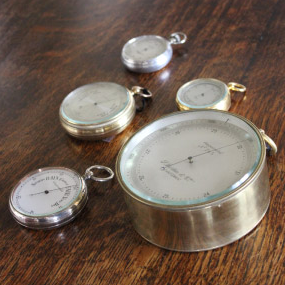 If you would like to buy an item, purchases can be made in the following ways:
Bank transfer.
British Sterling cheque or cash.
We do not accept credit or debit card payments.
Our guarantee: We undertake a strict code of practice which assures our clients the highest standard of professional conduct. If required, additional photographs can be sent by email or through the post. Description and condition reports are given accurately and all purchases are fully guaranteed. If you are not completely satisfied, a full refund will be available provided we have been notified in writing within 14 days of the purchase and that the item is returned in the exact condition it was despatched.
Delivery & collection: We can wrap, pack, insure and arrange delivery or collection of a repair in accordance with our clients' wishes to anywhere in the world. We are also happy to advise carriers on any special instructions if you would prefer to organise this yourself.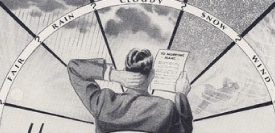 Nearly every week we have phone calls from people who have found us on the internet and enquire if we are able to help them as their barometer has suddenly stopped working and they are desperate without it.
Of course we are delighted to do so and in most cases it is a very simple and straightforward repair and adjustment that rescues the situation. It is interesting to note that in these instances the client really does use and depend on their barometer because over the years everyone seems to have switched to modern technology and the TV weather forecast. This has in most cases made the antique barometer just a decorative object. However if you go back in time to when these domestic instruments were made in the thousands, they were, at that time, an essential item just as important as the timepiece.
A very interesting development has taken place recently with the Met Office publicly requesting that they need help and information from individual owners of weather instruments, so that their forecasting can be more accurate and localised. We are so used to images on the television of warm fronts and cold fronts rushing across the screen, with isobars and wind direction, rain clouds etc, that most people disregard their own barometer as being inadequate. However, at last the powerful Met Office have realised that local information is vital to get an accurate forecast.
Reviews and Ratings
We do not have any reviews about Derek & Tina Rayment available right now.