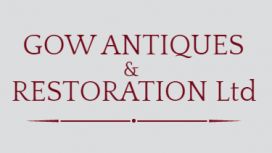 We have spent the last thirty years actively involved in the restoration, conservation, and trade of fine antique furniture. During this time we have gained a wealth of specialist knowledge and experience. We also offer a consultancy service on different sides of the antiques trade.
We are heavily involved in the assessment of furniture following fire and flood damage. This service involves visiting the property, advising on damaged items and compiling a detailed report for insurance companies.
On numerous occasions we have been asked to advise on furniture acquisitions. Many items have been sourced for private individuals and collectors. Each piece has to be examined for authenticity, quality, colour and condition. This search and find process can be time consuming and hard work, pointing out potential problems prior to purchase.
On high value items we believe it is a must to seek advice to avoid disappointment in the future. We have advised on the acquisition of antiques businesses, viewing the stock and reviewing the financial information.
Consultancy can also be given on the efficient running and organisation of a restoration workshop as Jeremy is on the vetting team for BAFRA. For some large collections we have been involved in devising a long-term restoration strategy, ear marking pieces in most need of work
---
Services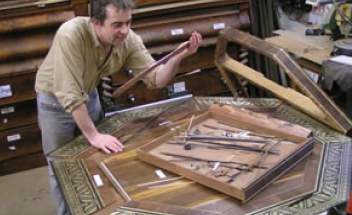 We like to think no antique furniture restoration job is too big, too small or too difficult whether it be in wood, tortoiseshell, mother of pearl, or ivory. Restoration can involve all sorts of different skills from cabinet-making to carving, veneer work to marquetry, boulle and polishing. Veneer work and marquetry is a speciality at Gow Antiques. We have a large stock of old veneers and can carry out the most comprehensive job.
We carry out all forms of cabinet-making for example making new legs, reconstructing whole pieces of furniture or making entire new bases for ornate cabinets. Old wood is used for all repairs whenever possible.
French polishing is carried out with extreme care. Many pieces have been stripped and over polished with use over many years. Wherever possible we retain the original colour and patina. Surface polish can be revived and brought back to life by either French polishing or using a traditional hard wax finish.
All handles, castors, locks and other brasswork can be replaced, repaired or matched. Ormolu mounts can be re-gilded and aged as required.
Leatherwork
is also undertaken with a wide variety of leathers and gilt tooling.
Upholstery
, caning, and rush seating are sub-contracted to a local experienced upholsterer.
Remember a treasured piece of good furniture restored well by Gow Antiques will add to its value and the price of the restoration will be a small fraction of the overall pleasure it will give you.
We are all increasingly aware of the need for informed and sympathetic conservation of our heritage. This is particularly true for antique furniture.
Reviews and Ratings
We do not have any reviews about Gow Antiques & Restoration available right now.