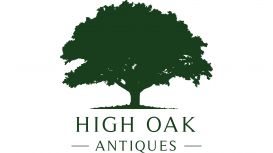 About the Business
I established High Oak Antiques in 2019, taking the jump to set up a small business whilst also working in the City... the plan is to grow High Oak Antiques and over time be able to focus 100% on something I think I will really love! My house is already full of many treasures - I love telling the story of an item or finding something old and battered and bringing it back to life!
My style can't really be pigeon-holed... it doesn't matter if the item I find was made in 1950, 1850 or 1750... it just has to appeal to me. Quite simply, I'm guessing that if I love it, there's a chance someone else will as well! My real loves are industrial items, mirrors and anything that's a little bit different. Expect to see an eclectic mix of items, that probably doesn't logically sit together. Antique buying and selling should be fun and interesting... when I'm thinking about buying- something one of my tests is "if it doesn't sell, would I be happy with it in my house?!"
I hope you'll love the items I find and I'd love to see what you do with them - please take a picture and post on Instagram tagging @highoakantiques! And, don't worry about what someone else will think... buy something because you love it!
Location & Hours