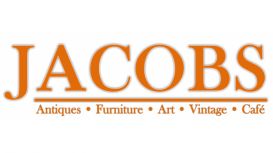 Loose yourself in second-hand books, vintage clothing, medals, bespoke lighting, furniture, records, army surplus and comics, over three floors in this converted warehouse. With over 30 stalls under one roof this is the place to visit to while away hours in the heart of the city.
Nestled between newly developed buildings, find Jacobs and you find a delicious treat indeed as betwixt its doors lies treasures, trinkets and a collective of eccentric sellers to tickle your funny bones. Many of the Stalls holders hire out their pieces to the Film & TV industry and for fancy dress purposes too!
---
Reviews and Ratings
What a great place - an antiques market that doesn't only do antiques - there are old photo stalls, they sell lamps and clothes and memorabilia - if you have a day off and you're wondering what to do, take a trip to the past in Jacob's market. Oooh, take your wallet as well. The cafe, by the way, does an awesome breakfast.
Awesome little gem for us would be hagglers! It's like the Old Curiosity Shop and Narnia rolled into one, and you're sure to find something you love!