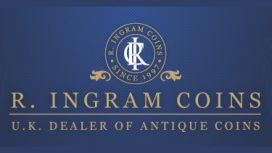 R. Ingram Coins are Michael and Rendel Ingram; we began dealing in coins in 1997. We are based in Southampton in the UK. We are a primarily a postal business, but are happy to see people on any weekday between 10 am & 4 pm; by appointment only, please.
Our first catalog was issued in 1997 and was a very modest affair; since then we have developed and grown. We made it catalog 100 in early 2013; this had 32 pages, packed with coins. Since then we have grown still further, and list 119 in 2016 will be our biggest ever listing with 56 pages and well over 9,000 items. We issue lists every two months, posting them around the 7th of every odd month - it is usually put online a few days earlier at the end of the previous month.
We were one of the first UK coin dealers to go online in 1998, and since then have prided ourselves on having the most extensive UK coin listing on the world wide web, bar none. Our bread and butter have always been English coins, and we consider our core area to be coins minted from the seventh century to date. Our website is always bang up to date; as coins are sold they are removed from the listing. Everything you see listed is available. R. Ingram Coins also went on Facebook and Twitter in 2013 and are now very active on both. We have almost 4,500 likes on Facebook and over 8,500 followers on Twitter.
We aim to list every milled date, of every denomination, featuring coins in the very best grades, and for those with more modest pockets, in mid and low grades also. With hammered, we aim to stock all monarchs including many of the very rare earlier ones. We always have a very good selection of coins from Edward I to Charles II. Over the years we have expanded our listings and we now include Roman, Celtic, Scottish, Irish, US and other Foreign coins, as well as banknotes and medals.
We pride ourselves on our sincere grading and reasonable prices. We are well known for our friendly and honest service, and have many clients based in the UK, US, Australia, Ireland, France, Russia and many other countries; we deal with collectors in well over 30 different countries, in every continent in the world.
---
Photos
Gallery
We have many antique coins for sale at R.Ingram Coins.
We are a major coin dealer from the UK and as such have many old English coins and British coins for sale.
We are coin dealers who love old coins and we understand coin collectors, their love of old British coins and their need to buy antique coins. We also understand the old coins value to collectors and the excitement they feel whenever they see old coins for sale.
Reviews and Ratings
I never feel rushed you are always so caring and take time with me. Thanks.
It's been a real pleasure dealing with you, you seem such nice people, thanks for everything.
How do you get your coins out so fast? You do it every time. Really thankful, you always send out the coins so quickly.